Center for Cluster Development and Coordination
Principal activities
Activity1
Promoting open innovation through trans-sector interaction and collaboration
The CCD explores and searches for seeds for R&D at universities, research centers, and companies, and needs in the field of healthcare, for eventual practical application or commercialization of promising seeds. The CCD also promotes the creation of new innovations through collaboration between industrial and academic sectors.
The CCD operates an open innovation program in which joint research projects making use of the KBIC's R&D infrastructure comprising research centers and facilities are proposed to domestic and international pharmaceutical companies and other potential partners. The CCD also organizes various networking events, including "Kobe Regenerative Medicine Study Meetings" for the industrialization of regenerative medical technologies through collaboration between related companies and researchers, thereby promoting interactions among KBIC-based companies and researchers in the hope that they will lead to new innovations.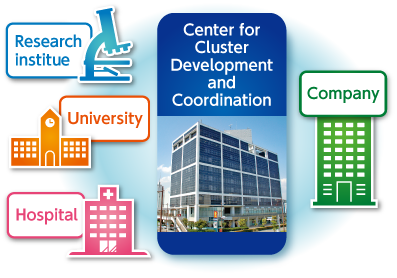 Activity2
Promoting the KBIC's international activities
The CCD supports the KBIC's international activities, such as interaction with major bio-clusters outside Japan, attendance at or participation in international exhibitions and symposiums, to publicize the KBIC and build networks on a global basis. The CCD also engages in global information exchange concerning research seeds and needs and industrial trends in medical device, drug discovery, and biotechnology, promoting match-making among KBIC-based companies and researchers and proposing international joint research/development projects.
To make the KBIC known globally, the CCD is engaging in vigorous promotional activities, co-hosting events with overseas clusters and running advertisements in international medical/scientific journals and other media.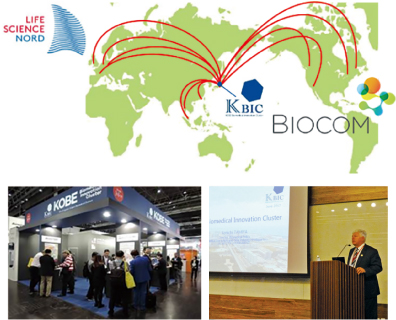 Activity3
Assisting small and medium-sized local businesses and KBIC-based companies in their projects
In April 2018, the CCD opened the KBIC Business Incubation and Collaboration Liaison Office (KBIC Liaison Office) as a new business support center to better respond to KBIC-based companies and researchers' diverse needs for support.
CCD is staffed with dedicated coordinators, each specializing in a specific field, such as medical device and drug discovery. They assist companies and researchers in practical application and business projects involving R&D seeds. The CCD offers integrated support for medical device development in the form of "Support Platform for Medical Device Commercialization" covering seed exploration, matching, regulatory consultation by PMDA Cooperation Center for Regulatory Science Strategy Consultation, and so on. To support in silico drug discovery using the supercomputer K, the center is developing the drug discovery application "K4" which is easily operable and capable of high-precision simulation.
The CCD also supports business projects with the help of Healthcare Development Supporters, members of the general public who cooperate toward the development of healthcare-related products and services.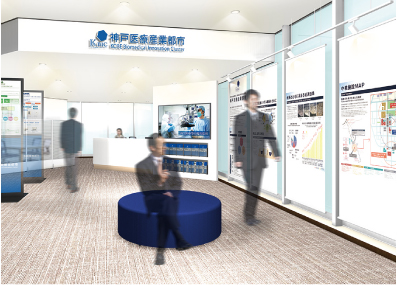 Activity4
Environmental improvement and strategic information dissemination
The CCD pursues continued environmental improvement at the KBIC in consideration of needs and wishes of its constituent research centers, universities, and businesses so that they can engage in their activities in an environment worthy of a research cluster of international standard. The CCD also supports the stakeholders' initiatives within the KBIC that improve their R&D activities or operational environment.
n the occasion of the 20th anniversary of  KBIC Development Project, the CCD is pursuing information dissemination activities vigorously, including the management of the KBIC website, the use of social networks, the distribution of email newsletters, and the organization of events. These activities are expected to effectively disseminate information on the KBIC and its past activities and achievements, making them widely known within and outside Japan.