Center for Cluster Development and Coordination
Personnel
Personnel
Managing Director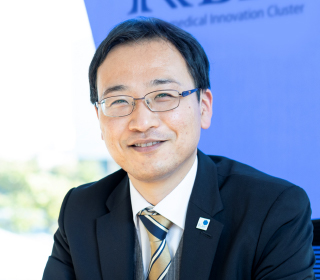 Tadaaki HANATANI
Before taking this managing director position at the Foundation for Biomedical Research and Innovation at Kobe (FBRI), I'd worked at the Ministry of Health, Labour and Welfare, Kyoto University and other administrative organizations.
Center for Cluster Development and Coordination (CCD) of FBRI is a team of expertise with extensive experience working at companies, academia, independent administrative agencies and Kobe City, who have vast knowledge in medical related field. As a concierge in the Kobe Biomedical Innovation Cluster, we will provide one-stop service to respond to the needs for practical use of R&D seeds and its commercialization.
Medical Devices
Senior Coordinator
Takahiro NAKANISHI
Drawing on my background thoroughly engaged in new healthcare business creation, ranging from pharmaceutical R&D to market exploration for medical devices, I have already worked on over 2,000 wide-ranging consultation cases regarding KBIC, promoting healthcare business inception and development in Kobe.
Senior Coordinator
Masahide AZUMA
Having worked for a medical device manufacturer, which enriched my experience and knowledge especially through assignments in some European countries and China over many years, I am here to contribute to global bridge-building among the industrial, academic, governmental and medical sectors, utilizing my expertise in international business of sales channel development, local incorporation and operation of foreign companies, alliances management and so on.
Senior Coordinator
Yoshihiro SASAYAMA
Based on my background of engaging at an electronics manufacturer and with local government, which both have different cultures, traditions and viewpoints, I have supported manufacturers' entry to medical device business. Applying my extensive experience and knowledge, I will promote collaboration among industry, academia, government and medical sectors.
Chief Coordinator
Tadanori YASUDA
Expertized in regulatory science such as ISO13485 and Japanese QMS regulations as well as technical standards, e.g. IEC60601-1, which is essential to medical devices worldwide. Experienced in managing aseptic sterile facilities projects, political aids overseas and industrial business with the background of engineering knowledge. Professional advice available for your medical device business in Japan.
Project Coordinator
Masumi YAMAMURA
My aim is to support the promotion of medical device commercialization. I make use of my experience in marketing and R&D support at a health and medical device manufacturer, managing laboratory facilities at a research institution, and research support at a precision equipment manufacturer.
Drug Discovery and Biomedicine
Executive Coordinator
Ryuji HIRAMATSU
I would like to support advanced medical research and promote international collaboration among bio-science clusters, making use of my experience of working for many years in a pharmaceutical company involved in low molecular weight drug discovery, biotherapy, and regenerative medicine.
Senior Coordinator
Keijiro SUGIMURA
I would like to support and promote inter-sector collaboration and business development in drug discovery, life science, and regenerative medicine, making use of my wide-ranging professional experience, which includes R&D in biotherapy and regenerative medicine, CMC (chemistry, manufacturing, and control), intellectual property, and licensing.
Senior Coordinator
Tsuyoshi NOGUCHI
I am honored to offer my full support for R&D within KBIC and business development in and outside Japan, using my experience of drug research and development within a pharmaceutical company and business strategy planning and promotion in Japan and abroad.
Chief Coordinator
Mikiko SASAYAMA
I am determined to do my best to work actively with our international partners and support global flows and interaction among people, things, and information so that I can actively contribute to making Kobe an even more attractive city for the international community.
Coordinator
Saori ITO
As a Coordinator mainly in charge of innovation programs in the areas of regenerative medicine and drug discovery, I intend to provide close and precise support for industrial-academic collaboration and further business development within KBIC, drawing on my experience of working in companies operating in KBIC.
Project Coordinator
Maiko TANAKA
I would like to contribute to accelerate effective commercialization mainly in the field of drug discovery and biotechnology. I would also like to encourage active communication among companies and researchers in KBIC to promote industrialization and innovative discoveries of regenerative medicine business.
Healthcare
Chief Coordinator
Miwako NISHIMURA
I provide support to commercialize products and services in the healthcare field through participation by citizens and cooperation among industry, academia and government, by incorporating the perspectives of both users and providers.
Project Coordinator
Midori INATSUGI
In promoting activities to support the commercialization of products and services that help ensure the healthy living of citizens, my focus is on promoting cooperation and integration among industry, academia and government. The aim is to create communities where people can enjoy a long and healthy life in Kobe and eventually around the world.
Transversal Coordination
Senior Coordinator
Kuniyoshi UCHIDA
I am in charge of start-up support for new businesses. I have worked for commercialization of intellectual property in universities and research institutions. I also have an experience in starting up a company and launching a new product based on technology in the academia region. I would like to be of service to anyone who aims to turn research outcome or idea into practical use through starting up a company.
Coordinator
Aiko TAKASU
Temporarily assigned from Pharmaceutical and Medical Devices Agency(PMDA) to provide supports related to pharmaceutical regulatory issues in KBIC. Please feel free to stop by at "PMDA Strategic Consultation Coordination Center Kobe" whenever you have questions. Appropriate services during various phases of development will be offered.
Advanced Medical Technology Coordinator
Takashige OKA
Based on my experience of developing absorptive medical devices and scaffold materials for regenerative medicine and operating business with such products, I offer advice on business projects involving medical devices and regenerative medicine.
Project Coordinator
Kyoko WATANABE
Utilizing my professional experience in academia and the private sector, I make sure to be able to offer support that meets user needs, mainly in connection with collaboration among the industrial, academic and governmental sectors. The areas I assist in problem-solving are transversal, ranging from pharmaceuticals and medical devices to biomedicine and healthcare.
Project Coordinator
Keiko KOBAYASHI
I offer comprehensive support in global expansion and network building that the Kobe Biomedical Innovation Cluster aims at, through participation in international exhibitions and symposiums and deepening relationships with major bioclusters in various regions around the world.
Business Project Support
Coordinator
Kuniko KAWAMURA
As a contact person of consultation service counter, I will connect companies and researchers to KBIC by communicating and through networking opportunities. I'll try my best to be the closest and most reliable person, so if any support is needed, please reach out to me at any time.
Coordinator
Shizuka SHIMA
I am in charge of one-stop service counter for business development and commercialization. By utilizing my work experience at pharmaceutical company, I will support to turn R & D seeds into practical application for companies and researcher at KBIC. Please feel free to contact me for any assistance.
Kobe Research Complex
Coordinator
Shuji SENDA
With my 40 years' experience in medical research & development, business strategy planning and business management, I will communicate closely with companies in need and support their commercialization activities at Kobe Research Complex Council.
Coordinator
Yutaka KOBAYASHI
Based on my experience in health care design and product & business development, I support the business relating to the area such as preventive medicine, healthy life and medical services by referring to the evolution of lifestyle, environment and biometric sensor and its analytic data in life course health care.
Science Communicator
Science Communicator
Chihiro INOUE
I am in charge of KBIC's public relations. While providing information on KBIC's activities in an accessible manner, I also introduce activities by companies and organizations that make up KBIC, assisting them in communicating to domestic and international audiences.