Insatiable spirit of inquiry
– Only deep aspirations for inquiry can save the world.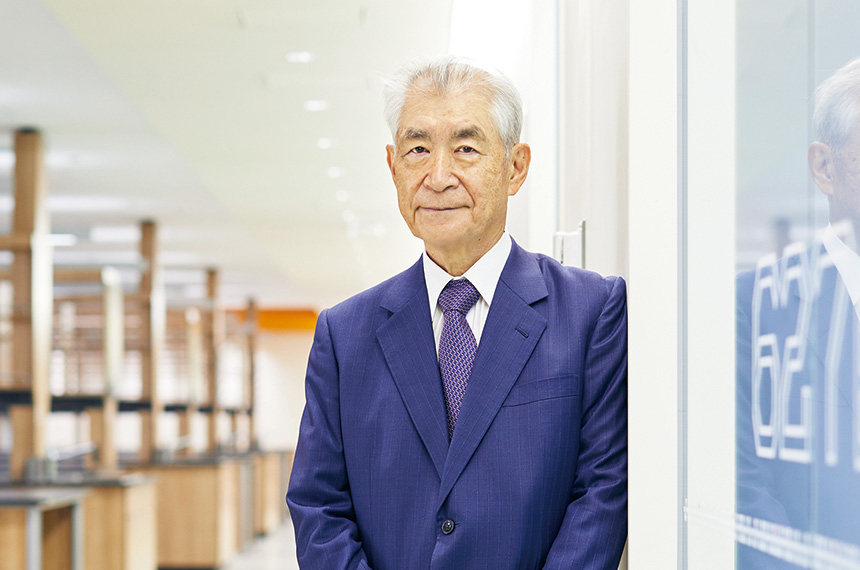 TASUKU HONJO, M.D., Ph.D.
President of Foundation for Biomedical Research and Innovation at Kobe
Deputy Director-General and Distinguished Professor
Institute for Advanced Study Kyoto University
PROFILE
Dr. Tasuku Honjo graduated from the Faculty of Medicine and completed his studies at the Graduate School of Medicine, Kyoto University. After serving as a visiting fellow at the Carnegie Institution for Science and at the NIH (Laboratory of Molecular Genetics, NICHD) in the U.S. and as Professor at the Faculty of Medicine, Kyoto University, he became the dean of the Graduate School of Medicine and the Faculty of Medicine at Kyoto University in 1996. He also served as an executive member of the Council for Science and Technology Policy of the Cabinet Office and as Chairman of the Board of Directors of the Shizuoka Prefectural University Corporation. In 2015, he became the president of the Foundation for Biomedical Research and Innovation (currently, the Foundation for Biomedical Research and Innovation at Kobe). He has received many awards, including the Erwin von Bälz Prize. In 2018, he received the Nobel Prize in Physiology or Medicine. He also serves as Deputy Director-General / Distinguished Professor of the Kyoto University Institute for Advanced Study and as Director of the Center for Cancer Immunotherapy and Immunobiology of the Graduate School of Medicine, Kyoto University.
Turning a trickle of water into a flood, building bridges where there were none
The road to success in research is long and rocky. I first discovered the immunosuppressive agent "PD-1" in 1992. Subsequently, an anti-PD-1 antibody drug was developed; however, it took more than 20 years before the drug was used in actual cancer treatment. However, I am an optimist by nature. Although my path has been long and arduous, it never once felt like a hardship. My motto is "research what you want to know." I have always consistently followed this simple concept. When you really want to know something, if you keep pursuing it until you understand it, you will want to understand it even more deeply. With curiosity as your starting point, if you courageously face the challenge, concentrate on your research with conviction, and continue it without giving up, the path will surely open up for you.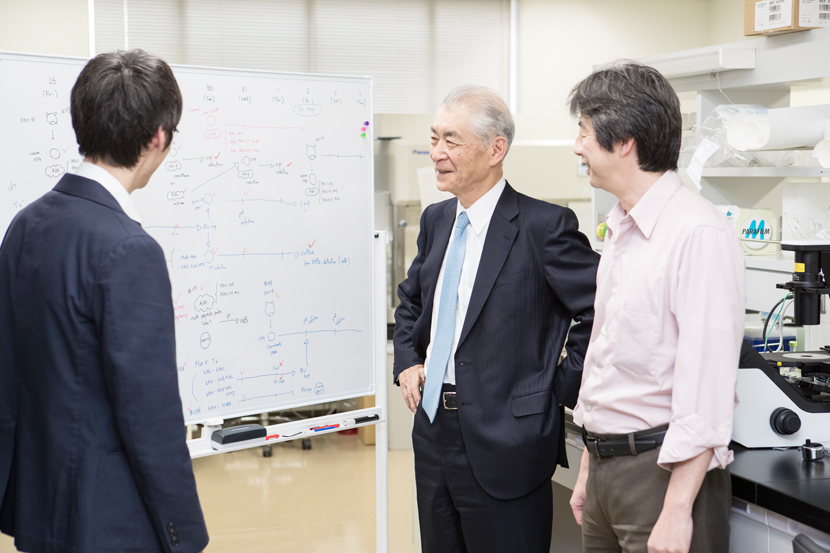 An anti-PD-1 antibody was first approved for use in the treatment of malignant melanoma, a type of skin cancer. Its scope of application has been gradually expanded, and it is now used in seven types of cancer, including lung cancer and stomach cancer. The scope of its application is further expanding, and, in the not-too-distant future, the day may come when all cancers can be cured.
For me, the joy of research is like finding spring water trickling from rocks deep in the mountains before anyone else, and gradually widening its flow to create a murmuring stream, and even a great river. Another joy is to push my way through trackless terrain deep in the mountains and build a bridge in a place where there is no crossing. When all cancers can be eliminated, my heart will surely be filled with such joy.
Global Medical Innovation Hub
~ From Kobe to the World ~
My connection with the Kobe Biomedical Innovation Cluster (KBIC) goes back more than 20 years to October 1998, when I first participated in a meeting, as the Dean of the Faculty of Medicine, Kyoto University, to discuss the basic concept of the cluster as a reconstruction project following the Great Hanshin-Awaji Earthquake. Subsequently, in 2015, I succeeded to the position of President of the Foundation for Biomedical Research and Innovation (currently, the Foundation for Biomedical Research and Innovation at Kobe [FBRI]) from Dr. Hiroo Imura (currently, the Honorary President of FBRI). I made great efforts to implement this concept and pushed for internal organizational reforms and new initiatives to improve the quality of the expanded KBIC.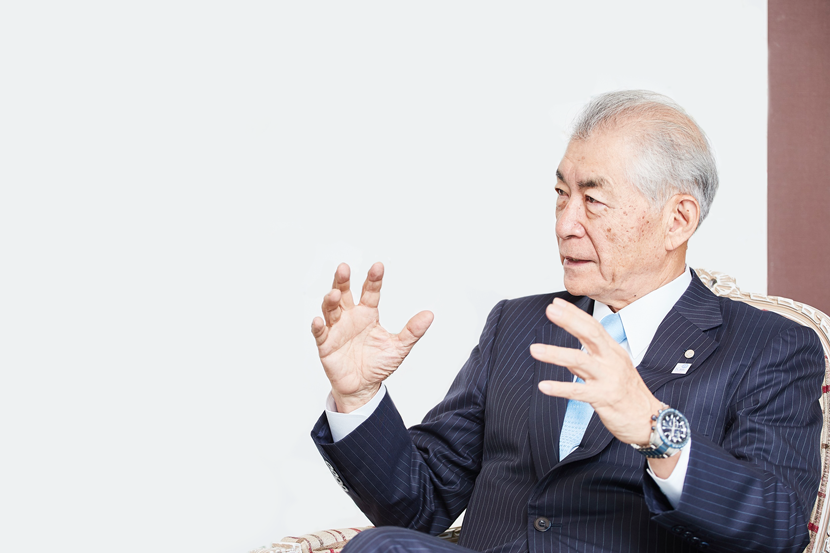 My dream now is to turn this biomedical cluster, the largest in Japan, which has been carefully nurtured by Dr. Imura and many others, into a "Global Medical Innovation Hub". Looking around the world, I find that the increasing gap between the rich and the poor and the aging populations are threatening the health and lives of many people. I believe that KBIC's next mission is to contribute to the well-being of the people in Asia and around the world by continuously generating Kobe-based cutting-edge innovations that have yet to be generated by anyone in the field of advanced medical care.
Where there's a will, there's a way!
Japan's scientific technology is facing many challenges. Research funding is decreasing year by year and younger researchers are put in a situation that makes it difficult for them to devote themselves to their chosen research with the required degree of freedom. We need to change our way of thinking going forward and create a cycle where the private sector takes the initiative in research funds to academia to lead to new research results, which generates new innovations for companies in the private sector, who will again take the initiative in returning research funds to academia, thereby creating a virtual cycle. To take the lead in this regard, we have set up a fund to support young researchers.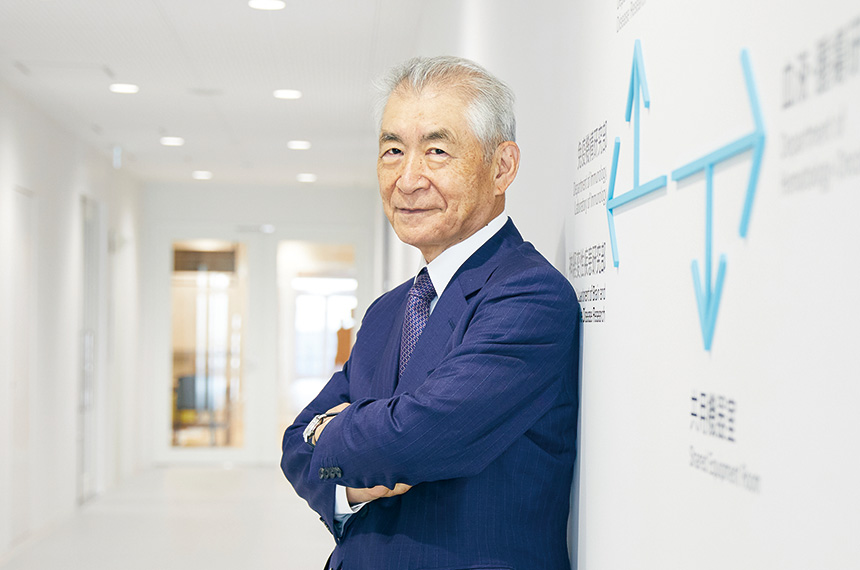 When I am asked to write my motto on a card, I write the saying "有志竟成" (yushi kyosei), which means that if your resolve is strong enough, you can surely achieve your goal. I named the newly-created fund "Tasuku Honjo 'Yuh-shi Fund". Resolve is a firm determination to do what you have decided to do. I would like to pursue the dream of establishing a global medical hub with aspiring researchers who boldly challenge themes that no one has ever pursued before.