Location
Kobe has served as a transport hub since ancient times. Air, sea, and land routes all converge on Kobe, providing convenient connections and fast access from all directions. The city's favorable location opens up a range of business opportunities.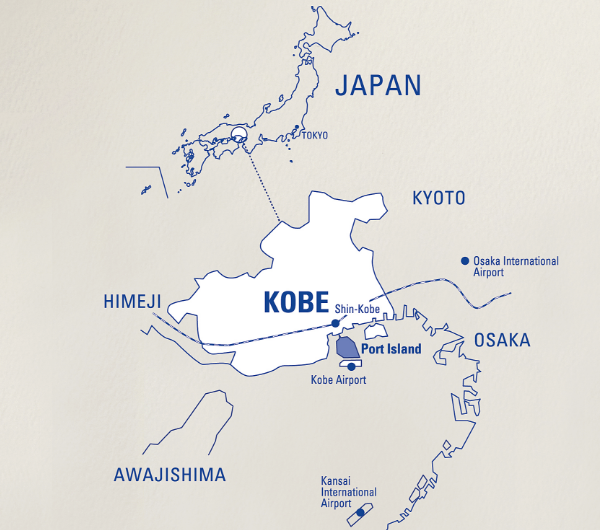 Getting to the KBIC
Kobe Biomedical Innovation Cluster offers convenient access from major cities around Japan.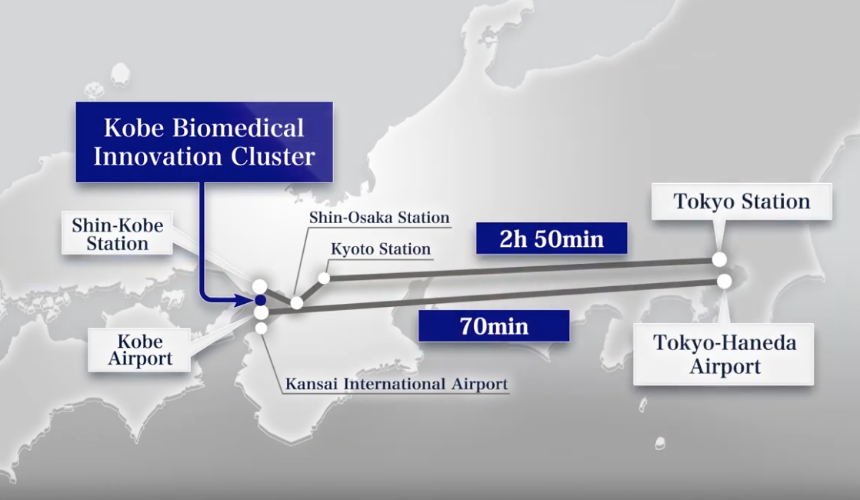 KBIC is accessible in under 1 hour from major stations in the Kyoto-Osaka area!!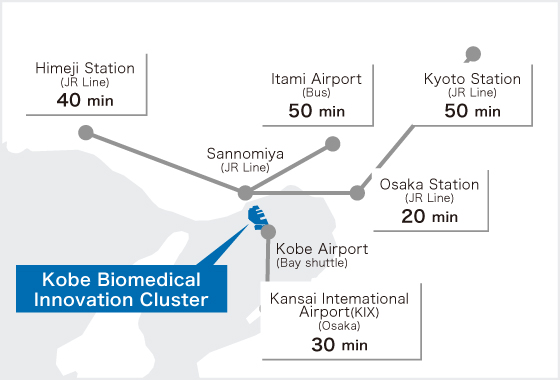 Kobe Airport
Fast access to major cities around Japan
Kobe Airport connects seven cities around Japan including Tokyo (Haneda), Sapporo (Shin-Chitose), and Okinawa (Naha). The new Port Liner transport system departs directly from the terminal and runs between Sannomiya and the airport in 18 minutes, helping to make business faster. A high speed ferry service also connects the airport with Kansai International Airport in 30 minutes.
Access Kansai International Airport in 30 minutes
The Kobe-Kansai Airport Bay Shuttle, a high-speed ferry, connects Kobe Airport with Kansai International Airport in 30 minutes. Buses also run from Kobe (Sannomiya) and take 60 minutes. Kobe is an advanced company location that squarely meets the needs of international business.» Kobe Airport Terminal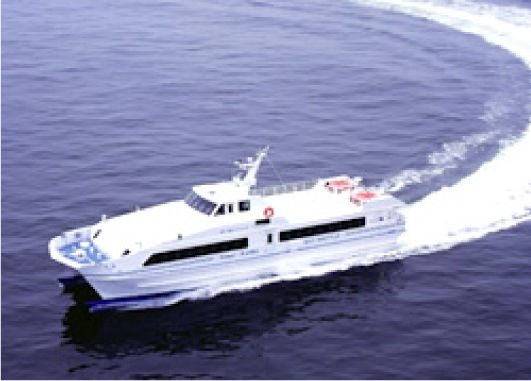 Rail
22 min to Osaka. For more business opportunities
Shin-Kobe Station, a stop for Nozomi and Mizuho Shinkansen (Bullet Trains), and a comprehensive transport network that connects with JR, private lines, subways, highway buses, and more enables smooth access to your destination. The network provides good access to Tokyo and Nagoya as well as the Chugoku and Kyushu areas not to mention Osaka, Kyoto, and the wider Kansai region.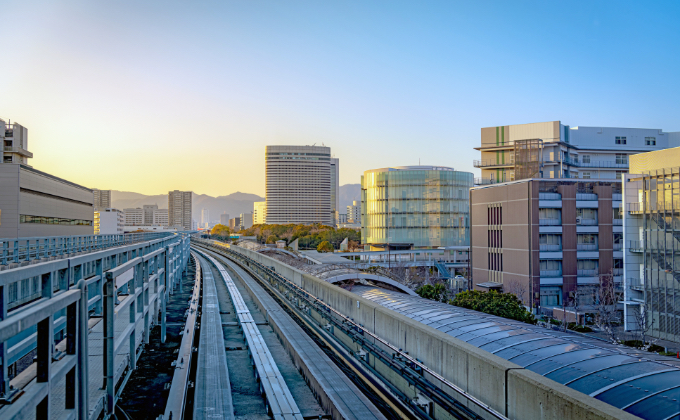 Highway
Connect to the highway network in all directions
Highways such as the Hanshin, Sanyo, Chugoku, and Kobe-Awaji-Naruto expressways cover Kansai as well as the Nagoya, Hokuriku, Shikoku, Chugoku, and Kyushu regions. The Port of Kobe and Kobe Airport are also nearby, supporting a diverse range of distribution needs.
Port of Kobe
A hub port connecting West Japan with the world
The Port of Kobe is one of the world's foremost container ports and is part of a network with around 130 countries and 500 ports around the globe. In August 2010, it was selected as a "strategic international container port" with the Port of Osaka under the name of Hanshin Ports. The port is developing rapidly as a gate port supporting international distribution.