Bacchus Bio innovation Co., Ltd. (Head Office: Nada-ku Kobe-City, Representative Director: Hideaki Miyake, hereinafter referred to as "the Company"), a biotech startup originated from Kobe University, is pleased to announce that it raised 1.2 billion yen (approx. $10.9M) on February 26, 2021 through a third-party allotment of new shares invested by DEFTA Partners (Head Office: San Francisco California, Group Chairman & CEO: George Hara), ROHTO Pharmaceutical Co., Ltd. (Head Office: Osaka-City Osaka, President & COO: Masashi Sugimoto), and Taiyo Oil Co., Ltd. (Head Office: Chiyoda-ku Tokyo, President & CEO: Yutaka Oka).

This financing follows the seed financing conducted from March 2020, when the company was established, to January 2021, with researchers mainly from Kobe University, Science and Technology Entrepreneurship Co., Ltd., DEFTA Partners Group, and Alliance Forum Foundation as the investors.
The Company continues to hold discussions with several companies regarding Series A financing, and plans to raise a total of 3.5 billion yen (approx. $31.8M) including the latest round by the end of 2021. The funds raised will be used to establish a "bio-foundry", a production system for useful substances using biological functions, through capital investment in state-of-the-art equipment, increasing the number of R&D staff, and various research activities.

In addition, the General Meeting of Shareholders and the Board of Directors meeting held today resolved to strengthen the Company's management team as follows: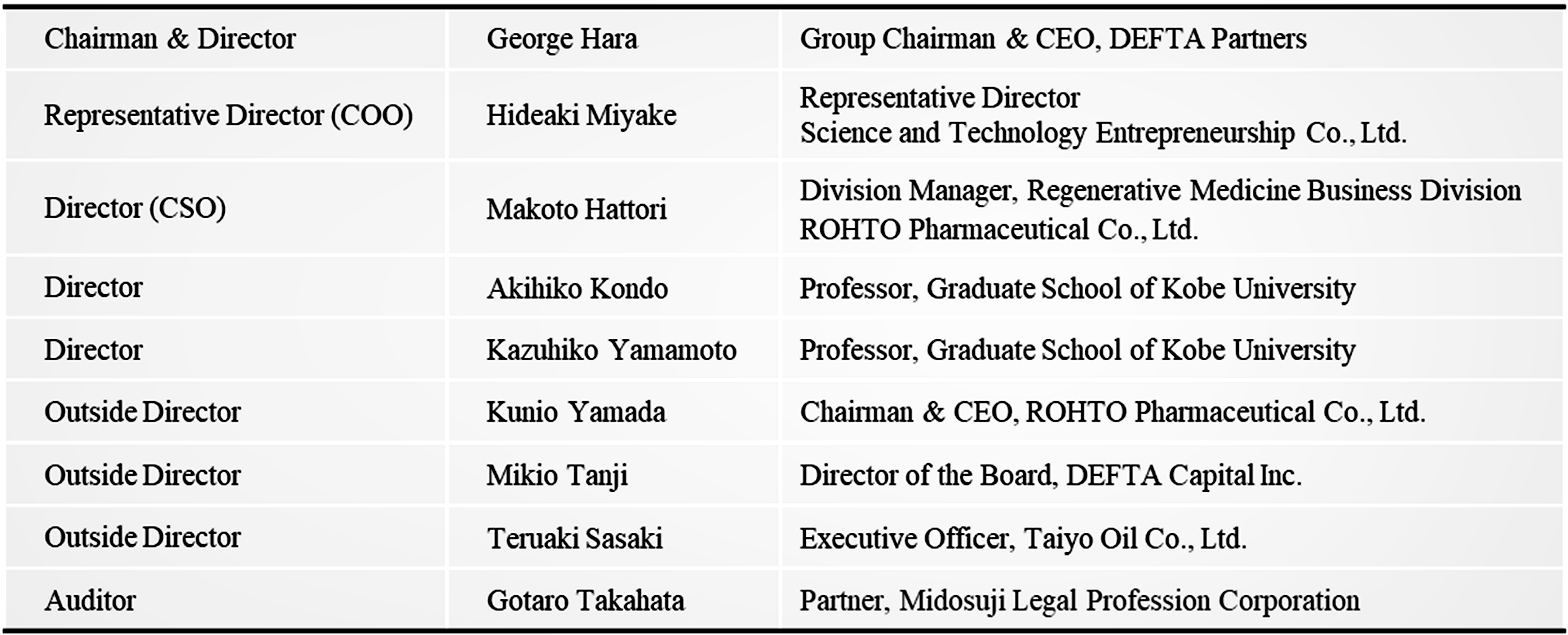 These days, the concept of "bioeconomy" has emerged around the world, which aims to solve global issues and achieve economic development simultaneously through using the latest technology and biological resources. In the meantime, supported by the rapid cost reduction in genome analysis due to technological innovation, "synthetic biology" based on technologies such as genome editing and DNA synthesis is rapidly being integrated with "digital platforms" that integrate big data, AI, robotics (automation technology), IoT, and cloud computing.

According to "The Bioeconomy to 2030," a report released by the OECD in 2009, the bio-related market will account for 2.7% of OECD member countries' total GDP ($1.6 trillion, approx. 176 trillion yen) by 2030.
Another report, "The Bio Revolution", released by McKinsey Global Institute in 2020, predicts that the impact of the bioeconomy on the global economy will reach $2 trillion to $4 trillion (approx. 220 trillion yen to 440 trillion yen) by the 2030s.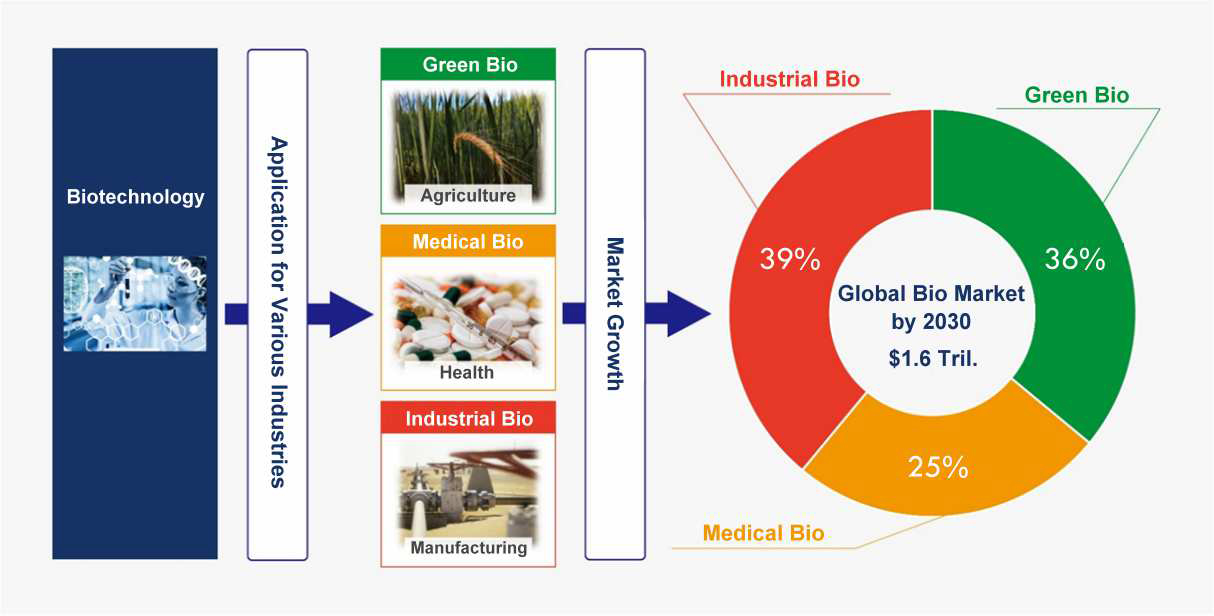 On the other hand, "The Bio Strategy 2019" announced by the Cabinet Office of Japan sets the overall goal to be the world's most advanced bioeconomy society by 2030, and one of the market areas set out in these goals is "bioproduction systems (production technologies and processes in the industrial and food fields that utilize biological functions)", namely "bio-foundry". By utilizing synthetic biology, Japan's international competitiveness in this market area is expected to be dramatically improved through the advancement of processes ranging from the breeding of microorganisms to the mass cultivation necessary for production, and the promotion of efficiency through digitalization, AI, and automation.

In the field of synthetic biology, Kobe University has been awarded a large amount of R&D funds through national projects by Ministry of Education, Culture, Sports, Science and Technology (MEXT), New Energy and Industrial Technology Development Organization (NEDO), and Japan Agency for Medical Research and Development (AMED) for more than 10 years. In the process of forming one of Japan's leading research centers in this field, Kobe University has produced many outstanding research results and developed experienced human resources. The Company has received a broad technology transfer from Kobe University as a package including intellectual property rights and human resources related to advanced biotechnology, and aims to realize the first full-fledged integrated bio-foundry in Japan by providing contract services related to the production of useful substances by microorganisms, as well as developing its own products.

Based on the concept of "public interest capitalism", which positions a company as a public institution of society, the Company will develop its business by providing its advanced industrial infrastructure to a wide range of industries, not only in the Kansai region but also throughout Japan and Asia, thereby contributing to the promotion of the bioeconomy and creating a new industry in the era of "Digital x Bio", from the Greater Bay Area of Kobe and Osaka.

The Company is setting up its research and development base in the Creative Lab for Innovation in Kobe (CLIK) on Kobe Port Island, which was completed in September 2020. Two synthetic biology-related startups from Kobe University (Bio Palette, a genome editing company, and Synplogen, a DNA synthesis company) have already moved in on the same floor of CLIK and are vigorously conducting R&D activities. By closely collaborating with these promising startups, the Company will further accelerate industrialization with the aim of becoming Asia's leading integrated bio-foundry.


About Bacchus Bio innovation Co., Ltd.
Company name: Bacchus Bio innovation Co., Ltd.
Business: Integrated bio-foundry
Head office: 1-1 Rokkodai-cho Nada-ku, Kobe Japan
Establishment: March 2020
Representative: Hideaki Miyake, Representative Director


About Bio-Foundry
A series of systems that efficiently develop genetically modified microorganisms using cutting-edge technologies in the field of bioengineering, and produce useful substances in a sustainable manner that is different from conventional methods (See below chart). The development cycle is called "DBTL," an acronym for Design (gene design), Build (creation of engineered microbes), Test (evaluation of produced substances), and Learn (knowledge learning and prediction). By integrating biotechnology, digital technology (IT/AI), and automated robotics, the development cycle (DBTL) is rotated at a high speed, and the development of genetically modified microorganisms is carried out in a rational and efficient manner. For example, ordinary yeast produce alcohol from sugar, but by artificially modifying the genes of yeast, it is already realized to produce not alcohol but various useful substances, including raw materials for pharmaceuticals, fragrances, and chemical products.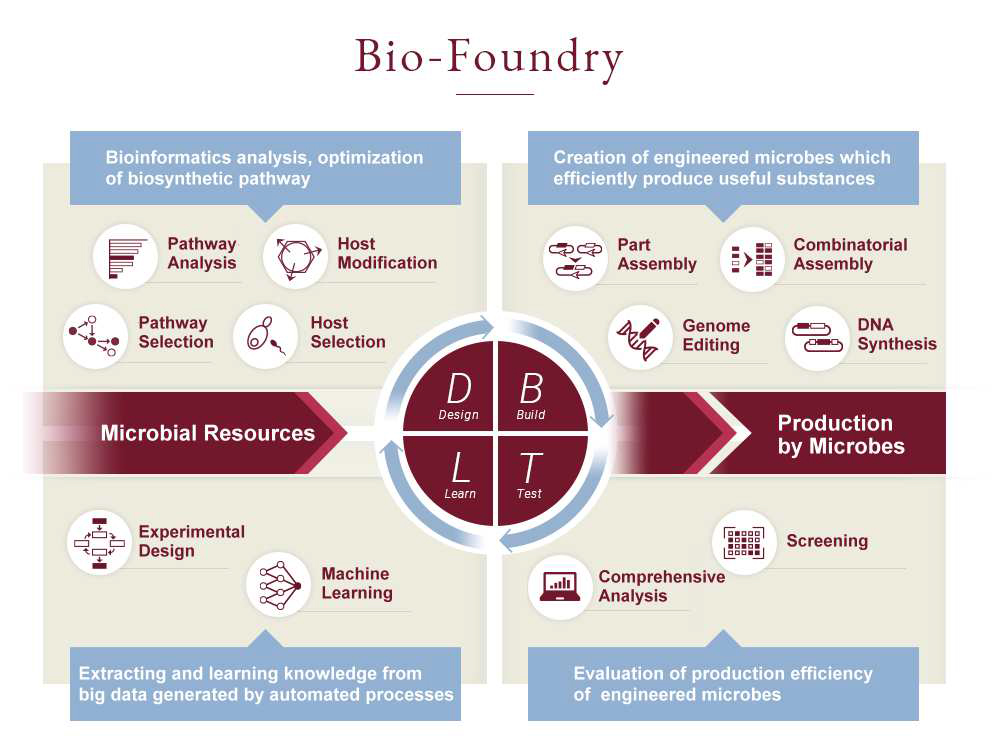 About DEFTA Partners
Company name: DEFTA Limited
Head office: San Francisco, California USA
Establishment: April 1984
(Business base in Japan)
Company name: DEFTA Capital Inc.
Location: Nihonbashi Life Science Bldg. 5F 2-3-11 Nihonbashi-Honcho, Chuo-ku Tokyo
Representative: Group Chairman and CEO, George Hara
URL:  https://www.deftapartners.com
About ROHTO Pharmaceutical Co., Ltd.
Company name: ROHTO Pharmaceutical Co., Ltd. (listed on the 1st section of Tokyo Stock Exchange)
Head office: 1-8-1 Tatsumi-Nishi Ikuno-ku, Osaka City Osaka
Establishment: September 1949
Representative: Masashi Sugimoto, President and COO
URL: https://www.rohto.co.jp/global/
About Taiyo Oil Co., Ltd.
Company name: Taiyo Oil Co., Ltd.
Head office: Hibiya Kokusai Building 15F 2-2-3 Uchisaiwaicho, Chiyoda-ku Tokyo
Establishment: February, 1941
Representative: Yutaka Oka, President and CEO
URL: https://www.taiyooil.net/english/
About Creative Lab for Innovation in Kobe
Name: Creative Lab for Innovation in Kobe (CLIK)
Location: 6-3-7 Minatojima-minamicho, Chuo-ku Kobe
Site area: 5,066 m²
Floor space: 12,268 m²
Bldg.structure: Steel construction, 6 floors above ground


For more information, please contact us at:
Bacchus Bio innovation Co., Ltd.

Email: info@b2i.co.jp