The Foundation for Biomedical Innovation Research and Innovation at Kobe (FBRI, President: Dr. Tasuku Honjo) announced that it has joined forces with MAGIA, the Medtech Alliance for Global InternationAlisation to offer new collaboration opportunities to MedTech SMEs.

MAGIA project brings together four European leading MedTech clusters: bioPmed / Bioindustry Park Silvano Fumero (coordinator, Piedmont), BioWin (Wallonia), Life Science Nord (Northern Germany) and Lyonbiopole (Auvergne-Rhône-Alpes) joining forces to continue the successful European strategic Cluster Partnership on MedTech.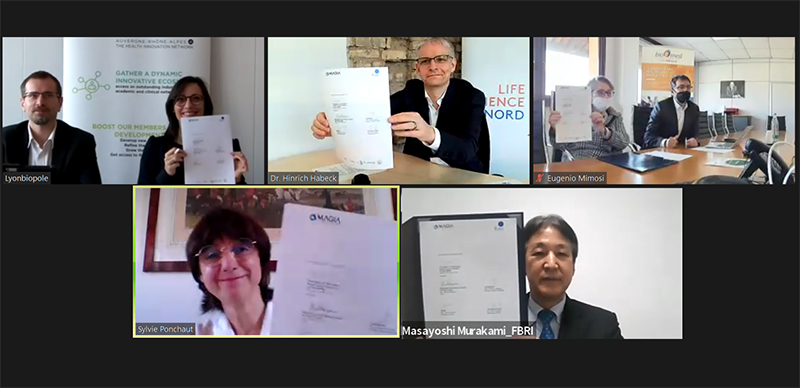 MOU Signing Ceremony (March 22nd)
In that framework, FBRI and MAGIA are pleased to announce the establishment of a new strategic partnership strengthening relationship between Japan and Europe.
This new collaboration agreement between the FBRI and MAGIA partners and foresees mutual benefit and opportunities in the field of MedTech. The Memorandum aims at:
- Being a multilateral goodwill agreement.
- Establishing a general framework of further specific agreements.
- Fostering agreements and joint developments programs between the companies of the FBRI and MAGIA partners.
- Building a solid and long-lasting relationship for the benefit of each one's regional enterprises.
- Sharing knowledge about each one's market in term of landing processes, barriers and opportunities.



ABOUT MAGIA:
MAGIA is the European Strategic Cluster Partnerships – Going International (ESCPs-4i) on medical technologies labelled and co-funded by the European Commission, DG Growth and the Executive Agency for SMEs of the European Commission following the COSME call COS-CLUSINT-2019-3-01 .


ABOUT THE MAGIA PARTNERS: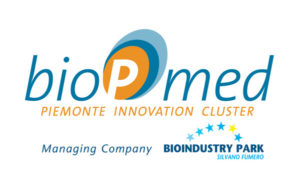 bioPmed is the Italian innovation cluster dedicated to health care related products and services. Established in 2009 by Regione Piemonte and managed by Bioindustry Park Silvano Fumero, the Piedmontese science & technology park specialised in the field. bioPmed brings together companies, research centers, universities, and foundations, working together with a common vision and a shared strategic plan. It promotes research-industry interactions, stimulates innovation, supports valorisation and commercialisation of research results and internationalization.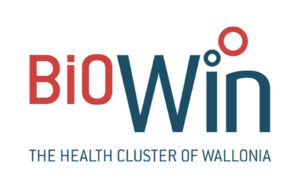 BioWin is the Health competitiveness cluster of Wallonia (Belgium), and its mission is to bring together stakeholders participating in innovative projects and/or education in the fields of Health biotechnology and medical technologies. The research and development supported by the cluster covers all healthcare-related fields.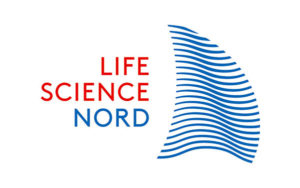 Life Science Nord strengthens the value chain in Hamburg and Schleswig-Holstein and has established itself as one of the leading life science networks in Europe. With a complete value chain the Life Science Nord cluster offers a unique infrastructure: practically oriented researchers and clinical staff cooperate closely with partners in the industry to help innovative products and technologies make the breakthrough. To support this structure, the cluster agency Life Science Nord Management GmbH and the Life Science Nord e.V. association work together and offer a variety of activities.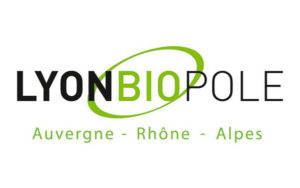 Lyonbiopole cluster unites and structures the innovative, fertile healthcare ecosystem of the Auvergne-Rhône-Alpes region, France. As a global competitiveness cluster since its inception in 2005, it supports the sector's projects and companies to strengthen the development of technological innovations, products and services to meet tomorrow's healthcare challenges.
Lyonbiopole currently has 270 members, including four major manufacturers who helped cofound it (Sanofi Pasteur, bioMérieux, Boehringer Ingelheim Animal Health, Becton Dickinson). It is Gold label certified by the European Cluster Excellence Initiative and a member of MAGIA and S3martmed, two major European metaclusters.