The Kansai Life Science Accelerator Program (KLSAP), launched in 2020, is co-hosted by the City of Kobe, Foundation for Biomedical Research and Innovation at Kobe (FBRI), Bayer Yakuhin, Ltd, Sysmex Corporation and Kyoto University Medical Science and Business Liaison Organization (KUMBL). This year, AstraZeneca K.K., Boehringer Ingelheim Japan, Inc. and Japan External Trade Organization (JETRO) newly joined to foster the Japanese startups in the life science field for their overseas business expansion, in particular in California, USA.

On July 2nd, the KLSAP2022 Pitch Contest was held in Kobe, and three (3) startups were selected from more than two dozen applications to participate in the KLSAP2022 Accelerator Program this coming fall. The 3-month program, which includes five bi-weekly customized advisory sessions, is coordinated by biomedwoRx: Life Sciences Consulting in collaboration with California Life Sciences (CLS).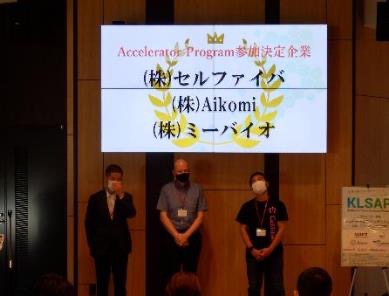 KLSAP2022 Pitch Contest (July 2, 2022)
【Schedule】
【KLSAP2022 Accelerator Program Participating Startups】
Aikomi Co., Ltd. (Nick Hird, CEO)

Develop AI driven digital therapeutic platform for personalized multi sense cognitive stimulation for people with dementia and their families and caregivers.

https://www.aikomi.co.jp/ (Japanese only)

CellFiber Co., Ltd. (Yu Yanagisawa, Representative Director, CEO)

Provide cell therapy through mass bio-production of cells using cell culture platform technology.

https://cellfiber.jp/en/

miibio, Inc. (Kensho Hayamizu, CEO)

Utilizing photo switch proteins for the wider biotech market and create new industries by providing research tools, gene therapy and regenerative medicine to improve bio productions.

https://www.mii-bio.com/
KLSAP is part of the CLS FAST International accelerator program, a program hosted by California life Sciences (CLS) that provides resources and advice to non-US clusters supporting local start-ups for their business development and commercialization and to help them establish subsidiaries and develop commercial spin-offs in the US.  FAST advisors range from entrepreneurs and business experts specializing in clinical development, regulatory affairs, reimbursement, business development, among other areas of focus.

Advisors appointed from the CLS FAST network of over 425 life science entrepreneurs and business experts (e.g. clinical development, regulatory affairs, reimbursement, business development, etc.) will provide a range of advice throughout the program.

The program concludes in December with a CLS FAST Showcase (Demo Day) and reception, where the KLSAP companies will join the California Fall FAST cohort and present their work to potential alliance, development, and investment partners.


About California Life Sciences (CLS) : California Life Sciences (CLS) is the state's most influential and impactful life sciences membership organization, advocating for the sector and its diverse innovation pipeline. For more than 30 years, CLS has served the community by supporting companies of all sizes, from early-stage innovators and startups to established industry leaders in the fields of biotechnology, pharmaceuticals, and medical technology. CLS also works closely with universities, academic and research institutions, the investment community, and other critical partners that promote this vibrant sector.


[Kansai Life Science Accelerator Program 2022】
Organizer:

City of Kobe, Foundation for Biomedical Research and Innovation at Kobe (FBRI)

Sponsors:

Bayer Yakuhin, Ltd, Sysmex Corporation, AstraZeneca K.K., Boehringer Ingelheim Japan, Inc., Kyoto University Medical Science and Business Liaison Organization (KUMBL)

Participating Organization:

Japan External Trade Organization (JETRO)

Supporting Organizations:

Life Science Innovation Network Japan (LINK-J), KINKI Bio-Industry Development Organization (KBDO), Osaka Prefectural Government, Kansai Innovation Initiative(KSII), Kyoto Research Park Corp. (KRP), Biocommunity Kansai (BiocK), Hyogo Prefectural Government

Support:

California Life Sciences (CLS)
biomedwoRx: Life Sciences Consulting